Safety
---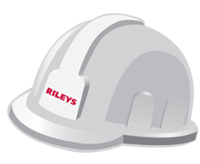 Thanks for visiting our Safety page. You can view some sample signs in our gallery below. If you would like additional details about size & material then please view this Safety Catalogue that we created for one of our customers and they have given us permission to share.
Should you want to purchase one of these or other signs, then please contact us at 403.297.1112 or south@rileys.com
Samples
View more samples
Rileys Sign Group is a leading manufacturer of Safety signs, decals and labels. We manufacture a full range of durable application-specific safety products with English and Bilingual language options.
We are your leading source for Safety Signs, Traffic Signs, Parking Signs, Oil and Gas Services Signs, Pipeline Signs, Construction Signs, Road Signs, Danger Signs, Caution Signs, and Warning Signs. We are the Experts! If we do not have exactly what you are looking for, feel free to customize any sign.
Whether you are looking for Danger Decals, Warning Decals, Caution Decals, Notice Decals, Hard Hat Decals or Instructional Decals. Rileys Sign Group is your one stop shop. If you do not find what you are looking for, we can make custom decals to meet your needs, please contact us to design your custom decals.
Safety signs are used to:
draw attention to health and safety hazards
point out hazards that may not be obvious
provide general information and directions
remind employees where personal protective equipment must be worn
show where emergency equipment is located
indicate where certain actions are prohibited